Sometimes those stories are full of joy; other times they are marked by sorrow. God has a story that can change everything, and he wants it to be part of your story, too.
I Wasn't Looking for God, but He was Looking for Me
Growing up, I was a rule follower and a good student. I attended Penn State University and abandoned many of the Christian values I had been brought up with. I chose relationships with men that were unhealthy, which led to much heartbreak. With no firm foundation, I didn't have a clear direction for my life. In the midst of these struggles, my sister invited me to attend church, and I attended on and off for several years. 
I remember on many occasions listening to someone talk about their experience through the Bridge Course, and thinking, that sounds like something I would like to do…next time. The "next time" finally came for me. A bit nervously, I signed up for the spring session of the Bridge Course with no real agenda in mind. I wasn't approaching it with questions about Jesus or what I believed about God. I didn't even think there was anything wrong with the way I was living my life. If you had asked me at that time, I would have said I was a Christian, and I simply thought going to Bridge would be a good refresher.
It turns out, the Lord was only just beginning to stir my heart towards Him. I continued looking forward to Wednesday nights at the Bridge as the weekly topics being discussed were speaking to my heart. I could ask questions during these sessions, and I didn't feel awkward or judged. About halfway through the course is a retreat. During the retreat I experienced God in a way I had never felt before. Someone prayed for me and I felt like God was giving me a childlike faith and that there would be a fresh excitement in my life for God. In that moment I felt very aware of God's love for me and wanted to know God and his word more and more! I realized that I was a sinner and that I needed forgiveness.  I prayed and put my trust in Jesus and his death on the cross to save me from my sins. Coming from years of living for myself, making bad decisions, and rejecting the Lord, I was amazed at the peace that followed.  
I am so thankful for the Bridge Course and how God revealed himself and his love for me. When I signed up for the Bridge Course I wasn't looking for God, but he was looking for me. I left the experience with a greater love and understanding of who Jesus is, a multitude of friends, hope for my future, and a Savior. I would encourage everyone, no matter what season of life or level of understanding of the Gospel to sign up for the Bridge Course. Let this be your "next time" and see how the Lord will speak to you of his forgiveness, mercy and grace.
Going to the Bridge Course Was Like Someone Turning on All the Lights
I grew up going to church regularly. When I went off to college I continued going to church but my faith was very rote, simply going through the motions and asking God to jump on board with my plans for myself. Generally my faith was very surface-level and didn't impact the way I actually lived my life. I lived for myself. I found out I was pregnant shortly before graduating college and that season was the first time I had to genuinely trust in God while walking down a path that seemed so uncertain. But shortly after the birth of my son I went right back to living for myself.
A friend recommended that I read the Bible to understand who this Jesus I claimed to follow was. I stared reading the Bible but it only raised more and more questions. Then I learned about the Bridge Course! I started going to the Bridge because I heard it was helpful to learn about Christianity and who Jesus was, why He came, and how He impacts our lives. Those were all things I didn't have answers to. When I started going to Bridge, I began learning more than I ever had in years of going to Catholic school or being in church. The messages walked us through the Bible and explained why Jesus came, what He did for us, and how we can receive the gift of salvation. While I grew up knowing about Jesus dying on the cross, it just felt like a distant event that happened a long time ago but didn't really impact me, like the Alamo or France giving us the Statue of Liberty. Going through the Bridge Course helped me understand the magnitude of who Jesus is and why He came.
When I think of my life before Bridge I see myself looking at a picture hanging on a wall in a dark room with a spotlight shining in one corner and another shining in part of the middle, but I couldn't make out the entire picture. Going to Bridge was like someone turning on all the lights in the room and the picture of the gospel finally made sense! While I could only see bits and pieces before, Bridge showed me a big, BEAUTIFUL picture of the gospel and it changed my life in the best way. The cross that seemed so distant became near and precious to me. The God who seemed big and standoffish became a Father, friend and Savior to me! I praise God for the road that brought me to Bridge and for how He used it in my life.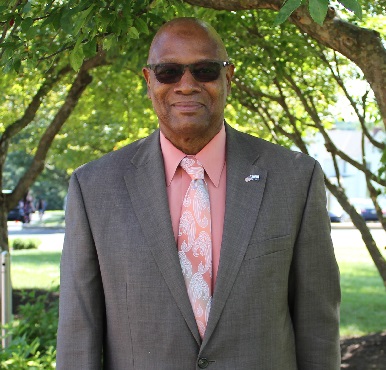 Growing Up Without a Father, I Am Thankful for What the Bridge Course Taught Me
My brothers and I were raised in our grandmother's house in Prospect Park, PA.  My mother and grandmom were charismatic, praying women who took us to church every Sunday. I didn't want to be there and had no interest in church or God. Running track, playing baseball and caring for our family dogs were my life.
After marrying my wife, Judy, I began to be interested in Jesus. I found myself laying aside my favorite Western books for Christian books.  Then, while I was working at an elementary school, a substitute teacher named Dan saw me reading the Left Behind series and invited me to church where his pastor was speaking about the end times. The Sunday morning I entered the front doors, I felt that God was telling me I'd found my home church. I was comfortable being there because I had been raised in church, but I still didn't understand what it was all about.
Then I read about the Bridge course, and my interest in God led me to attend. My energy level was so high that I was really excited on the first night – so excited that I didn't have time to be nervous.  God really spoke to me during the message and it even brought tears to my eyes. God was at work. The discussion group after the message was very comfortable and it included people from other experiences and backgrounds which made the conversation interesting. Although no one had to share, many questions were asked and answered in a relaxed way.
One night I had to choose between staying home and watching the Philadelphia 76ers in the playoffs or going to Bridge. Amazingly, I went to Bridge!  Each week I just could not wait to go to church on Sunday and attend the Bridge Course on Wednesday. And the Bridge retreat was a powerful time in my life as well.
Being raised without a father presented many challenges in my life. And although some still linger, I thank God for what I learned from the Bridge Course. I love this course so much, I have been serving in it now for sixteen years so that other people can receive what I received. 
Please come so you can try it out for yourself!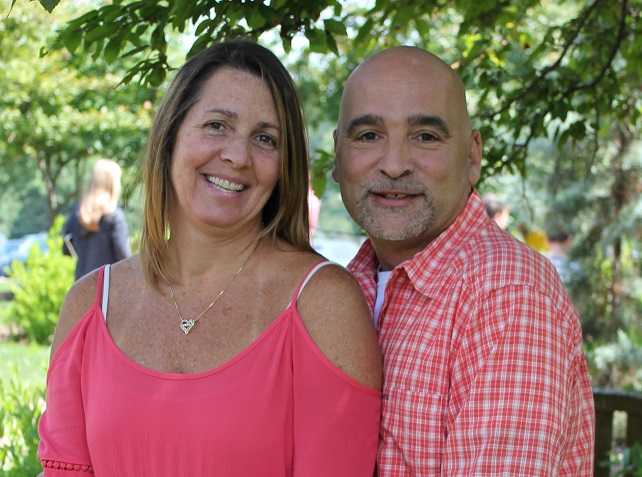 Anger, bitterness, and stress consumed our lives.
I Looked Everywhere for Validation before God Found Me
I grew up in the Quaker religion, which felt strict, quiet, and cold to me. When I was old enough, I stopped attending. From a young age, I felt an empty void in my heart, and I was angry toward God for tragic event that caused me to distrust people, especially men. My father and mother were addicts while I was growing up.  There are some good memories growing up but mainly the bad ones flood my mind. I often remember having to 302 my father or my brother, hide from them because they were on a violent episode during their mania or depressive mood swings, and there were many times I had to sleep at the neighbors or hotel rooms. By the time I hit my teenage years I suffered from anorexia and substance abuse. I was angry at God and did not understand how he could allow this kind of upbringing for a little girl.  I started using drugs at the age of 14 years old and the emptiness in my soul continued to grow. I pursued more drugs and more men for validation and warmth and eventually lost my Penn State Soccer scholarship, dropped out of college, and found myself pregnant at 20 with a man I barely knew. I entered a rehab where I was given a Bible and re-introduced to the Lord. I went to church but felt judged because of my addiction. I began to think about God but still blamed him for my hard life and single motherhood.
When my son was one-year-old, I was in another relationship and became pregnant again. Given my boyfriend's relapse, we decided to put our daughter up for adoption. I met with counselors and had countless meetings. My heart was heavy the day my counselor met with me and gave me a pile of papers listing adoptive families to choose from. It was so hard.
In God's sovereignty, I Ieft my boyfriend, prayed for the first time in years, and told  God I did not know what to do. About a week later, God placed a man in my life who I only knew for a short amount of time, but he begged me to trust him and not place my daughter for adoption. For some reason I trusted him, and I am happy to say I am now married to that wonderful man. 
Around that time, my new father-in-law invited us to the Bridge Celebration Dinner. Though I was still far from God and incredibly uncomfortable, I came to the dinner to support my husband and family and we decided to take the Bridge Course.  Besides being uncomfortably pregnant and having a baby all during the Bridge Course, once I overcame my own fears, which my leaders helped me with, the course was somewhere safe for me. When I first came to the Bridge, I was nervous that I was going to be forced to speak and answer questions, but it was the total opposite. I sat quietly and took everything in and not a single person forced anything from me or judged me.  Instead questions that I always thought would go unanswered, got answered.  Our leaders were warm and welcoming and not only them but many others who serve in the course. During week 8 of the Bridge Course, I realized that I was a sinner and that I needed a savior and I turned my life over to Jesus. I had privately prayed to God for some sort of sign so that I would know God was real.  During a time of prayer, someone prayed over me and pretty much reiterated my childhood and every feeling I ever felt – things that I never expressed to anyone.  I knew I was forgiven by God and I experienced an overwhelming sense of peace.
The void that I was forever trying to fill was overflowing with love and joy. The seeming coincidence of that random man who is now my husband was planned by the Lord.  He has blessed me with a beautiful family and great job; but none of that compares with the beautiful relationship I have with Jesus, my Lord and Savior. 
Here I Was, an Adult, and I Had Never Read the Bible
When my first husband and I separated and divorced, it was one of the most difficult times in my life. I believed in the promise I had made that marriage was for life; however, after years of abuse, cheating, and living with an alcoholic, the final undoing of the marriage was when I had a loaded gun held against my head.  I couldn't do it any longer. Two years after the divorce, my ex-husband died at the age of 36 of a massive heart attack. Now I had to raise my son without his father. 
Having been raised in a very strict home and heavily involved in the Catholic church, I continued to practice my religion faithfully for many years. But after my father passed away, I became angry at God. My dad was my best friend and I was his princess. Now I didn't have him here to take care of me any longer. My faith didn't seem to be holding me up. 
Several years ago, a neighbor asked my current husband and me if we would like to attend a course at her church called the Bridge Course. Both my husband and I were struggling, even angry, with God, and this neighbor was a good listener to me. In all my church going, I had never been exposed to the Bible and had never read it. This was the beginning of a new journey for us.
The first night I was overwhelmed, nervous, and embarrassed. Here I was, an adult, and I had never read the Bible. What were these people going to think of me? But people at the course accepted me without hesitation, helping me along the journey we were all taking. I even received notes from several people in my group. They would suggest that I read a certain scripture that may help me. How blessed I was that people cared. I knew I had made the right choice on attending the course. I also finally understood why Jesus died on the Cross. I always knew he died for me, but I didn't know that he died to pay for all my sins.
The messages explained each topic in such a clear way that even someone who had never read the Bible could understand what the scriptures were saying. Of course, the weekly joke, delicious dinner, and famous desserts helped!
During the course there is a 24 hour retreat. I was not sure that I was ready to attend, but I kept sensing that it would be one of the best 24 hours of my life. There I learned who the Holy Spirit was and really felt his presence. It was then that I turned my life over to the Lord. I can now face events in my past that I am not proud of and have received forgiveness for all my sins.
My husband, Ron, was the first to notice a change in me. He said I was more at peace, less stressed and happier. My life isn't perfect, but my God is. 
If you have not attended the Bridge Course, I would ask you to please try. You will be under no obligation to continue coming if you choose not to, but it is well worth the risk!